A select discography for Léopold Simoneau and Pierrette Alarie



Miscellaneous LPs




London OS 26270
also signed by: Richard Bonynge verso



Deutsche Grammophon 2538 244

Electrola-Hör Zu SHZE 121

Columbia (USA) MS 6461

Initiation a la Musique 10" E 55

Philips (England) 10" SBR 6236

Decca (England) 10" LW 5343
signed by Léopold on the flute



Philips (France) 6529 003

Philips (Canada) 3246

Fontana (Germany) 6530 045
| | |
| --- | --- |
| | |
| Decca (Germany) 10" LW 50 522 | High Fidelity Magazine HB 2487/88 |
Deutscher Schallplattenclub (Germany)
J 087 12" LP

Guilde Internationale du Disque (France)
SMS 2409 12" LP
The Paper Trail
Printed matter about Léopold and Pierrette

Renée Maheu

Pierrette ALARIE
Léopold SIMONEAU
deux voix, un art

Louiseville, Canada:

Libre Expression

377 pages, softcover

© 1988

autographed and
inscribed by
Renée Maheu,

Pierrette Alarie and
Léopold Simoneau
---
Léopold Simoneau

L'Art du Bel Canto

Québec

Boréal

135 pages, softcover

© 1995
autographed and
inscribed by
Léopold Simoneau
---
Reynaldo Hahn;
translated into English by Léopold Simoneau

On Singers and Singing

Portland:

Amadeus Press

244 pages, HB, DJ

© 1990
autographed and
inscribed by
Léopold Simoneau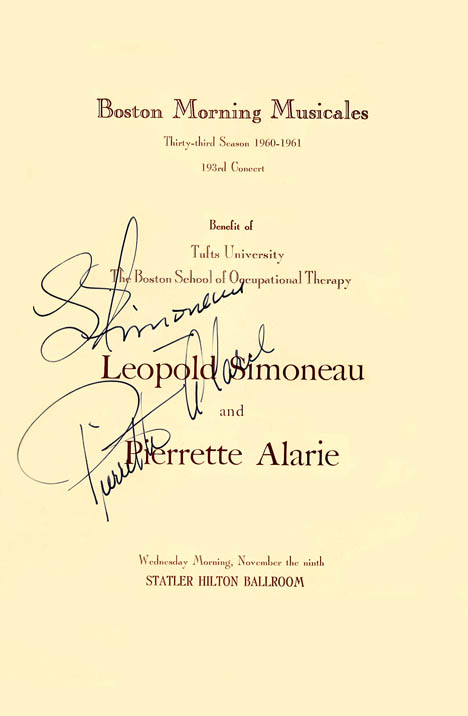 The first time I ever heard Léopold and Pierrette; Boston, 9 November 1960
---
| | |
| --- | --- |
| | |
| to visit Pierrette's photo, place cursor over image | to visit Léopold's photo, place cursor over image |
Les Variétés Lyriques, Montréal Season, 1945-1946
---
---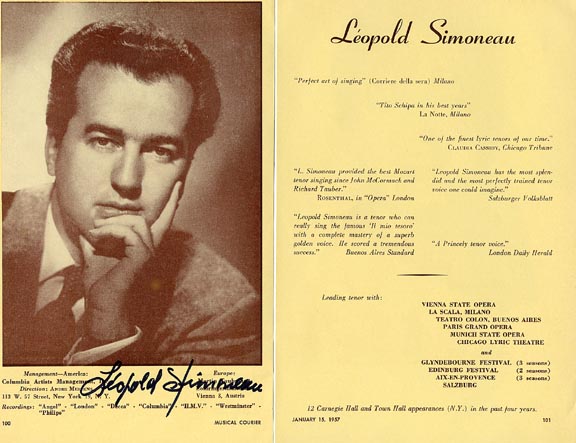 Musical Courier, 15 January 1957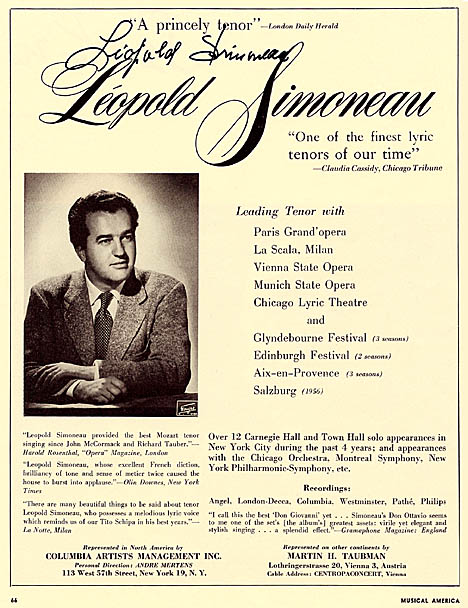 Musical America Magazine, 15 February 1956
---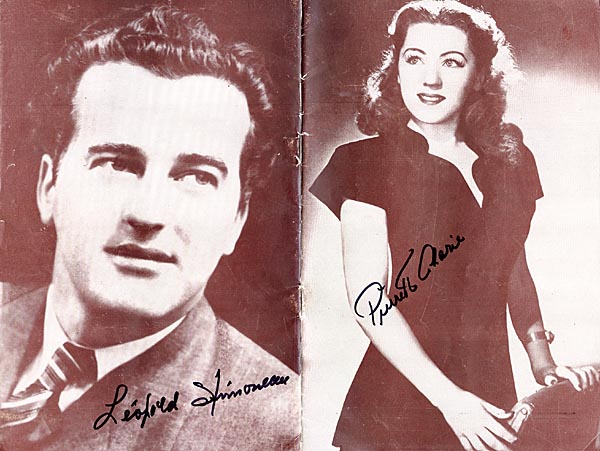 A small, 20 page brochure entitled, "Supplément musical, Le Barbier de Séville." Brief biographies and career descriptions on front and back endpapers. Publisher, publication date
and purpose of publication not listed.
---
Léopold and Pierrette,

We appreciate you! We appreciate your individual and collective art; deux artistes, un art. We appreciate this legacy of recordings you prepared for our eternal enjoyment and the edification of future generations. Through your sung musical passages of Mozart, et al, you have expressed the clarity of your vision and your humanity of "the humanities." From you, all of us have much to learn. Each song and aria you sing is a pedagogical expression from the soul of a true artist, whose understanding of the music you sing puts you right up there with the order of the Seraphim. God Bless you both. We have all been blessed by your shared art.


Klara and Edward F. Durbeck III, The Durbeck Archive (inspired hagiographers)
---
Page 1 ............. Introduction and Individual Recital LPs
Page 2 ................................. Ensemble and Choral LPs
Page 3 ............... The Operas and Opera Discography
Page 4 ........................ Miscellaneous LPs; The Books;
an epilogical encomium
Page 4.